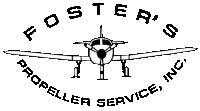 FOSTER'S PROPELLER SERVICE, INC
F.A.A. REPAIR STATION NUMBER F3PR014N
voice: 918-733-2131
fax: 918-733-2086
fosterpropeller@windstream.net
Building on what he had learned while working on aircraft during World War II, Herman Foster started Foster's Propeller Service in 1968 after having worked for Spartan Aircraft in Tulsa, OK for 16 years.
Mr. Foster , his wife Mary Lou , and their three sons, Larry, Garry, and Jerry continued the business until 1991 at which time they sold to Hill Aircraft of Atlanta Ga. Over the next several years all of the brothers went their separate ways with Jerry remaining in the aircraft industry. Mr. Foster passed away in 1993.
Jerry had worked in the industry since he was 12 years old and could not resist the gnawing urge to start and run his own propeller business. In 1995 Jerry opened the current Foster's Propeller Service, Inc.
Currently Jerry, his mother Mary Lou, his brother Garry, and 5 additional employees make up Foster's Propeller Service, Inc.
---